Capital Aikikai
Aikido in the Washington, DC area since 1973
Due to the risk of Covid-19 transmission Capital Aikikai will be closed until further notice. We will be keeping an eye on the situation and re-evaluate as necessary. Please refer to the Centers For Disease Control website for advisories and situation updates, and check back here or on our Facebook page for dojo updates.
Capital Aikikai monthly dues payments | more

Member and home dojo of the Capital Aikido Federation, affiliated with the Aikikai Foundation, Tokyo, and the International Aikido Federation. Founder and director, Clyde Takeguchi Shihan. Head instructor, William Plank.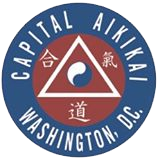 Capital Aikikai, 923 Sligo Ave., Silver Spring, MD 20901 | 240-242-5179 | www.capitalaikikai.org
Member, Capital Aikido Federation; affiliated with the Aikikai Foundation, Tokyo